Lucky to Build Beautiful House With Nadeau Stout Custom Homes
Andre and Rusty finished our beautiful house just before Thanksgiving and we have had a few months to enjoy the new space and take stock of the whole house building experience. First of all, I need to say that our house turned out magnificent. It is far better than I ever imagined possible on our budget. I walk in from a hard day of work and feel instantly happy and relaxed. The house is almost a vacation from reality and sometimes it's hard to leave it!! Rusty provided valuable floor plan advice and even managed to give us a large bonus room without much additional cost.
Andre was on top of every situation and showed us the value of his experience as well as the value of his highly respected status in the Ocala construction community. He is truly a man of his word.
Most importantly, they respected our individual taste and strived to make our house look unique and personal.
Four months after completion, Andre still answers his phone and solves any problems we may have encountered along the way.
We considered quite a few contractors before starting our new house, and being newbies at this felt a little lost during that process. It is easy to go with the least expensive quote, only to find out later that many things were not included or needed to be upgraded or simply were constructed shabbily. With Nadeau/Stout the original price was realistic and fair. We lucked out when we decided to ask them to build our house.
Sincerely,
Carolin Von Rosenberg and Paul Duenas
Buena Vista Farm, Ocala
Capa Properties, LLC
---
Commercial Construction Success from Concept to Completion and Beyond
It has now been a year since we purchased our building and started working with you on the remodel. We are so pleased with the results, I thought it was time to tell you how much I appreciate what you and Andre did for us.
As an IT consultant, I often say our greatest value is provided before the work even begins, the design phase. I would suggest the same is true with you. Your ability to anticipate potential problems and offer guidance and suggestions is one of the primary reasons we're so happy with our office. Your knowledge of the products and how well they apply to certain circumstances was extremely helpful and allowed us to choose products that provided the greatest value. I honestly expected to look around the office one year later (now), and be able to number the regrets I had in our design. That simply isn't the case. Of course, there are a couple things I wish I had done differently, but they are insignificant. We had a fixed amount of space to work with, since this was an existing commercial building, but I'm very pleased with how well we made use of the space and how well it works for us.
I can't discount the value of the construction process, though. Your communication with your subcontractors was consistent and continual. Andre's daily oversight of the job meant mistakes were caught and corrected before they could impact the schedule or the budget. Even with a faulty water fountain flooding half the building just a few weeks before we were scheduled to move in, you addressed the issue and got us back on track, so we were able to move in on time.
With the construction having been completed last May, we've had the opportunity to judge the quality of the workmanship. Again, I say thank you. In those ten months since we moved in, I haven't had to ask you to resolve a single issue related to the construction. The only issues that needed to be addressed were a result of the flood and you resolved those promptly.
In current times, it can be difficult to find honest business people who work hard to fulfill their commitments. So, thank you for doing what you said you would do and being so easy to work with.
Sincerely, Richard L. Mills
Technology Concepts of Central Florida
---
3 Reasons for Choosing Nadeau Stout Custom Home Builders for your Custom Home
Dear Rusty and Andre:
Although my house was completed four years ago, I am delighted to write this letter to share my experience with the wonderful process of building our home! I have given it a lot of thought and believe that there are three reasons why you were so successful providing me with what I envisioned when we first planned my house.
The first is your painstaking attention to detail in the planning and construction phases. You both are great listeners and hear what the customer is trying to describe. With years of experience under your belts, you were able to make cost-effective suggestions that improved the design and met my needs, budgetary and otherwise.
Secondly, you have created a well-oiled machine of sub-contractors with whom you work on a daily basis. You have thoroughly vetted each one. Their skills, work ethic and insurances were in apple-pie order before they proceeded to my job. Further, they were fully informed with plans and detailed instructions before they set foot on the construction site.
The third and final reason is your teamwork. You are complementary and effectively meet all customer needs. Rusty, adept at design, research and communication, works closely with the customer not only to realize dreams from concept to reality but also to explain and solve any problems that may crop up. Andre, on the other hand, is a master at executing the plan. His managerial and communication abilities with subcontractors and scheduling skills ensure the smooth-running of the project and its timely completion.
I was very lucky to build my house with Nadeau-Stout Custom Homes. I only wish that I could do another one!
Sincerely,
Mary Dana Sauro
---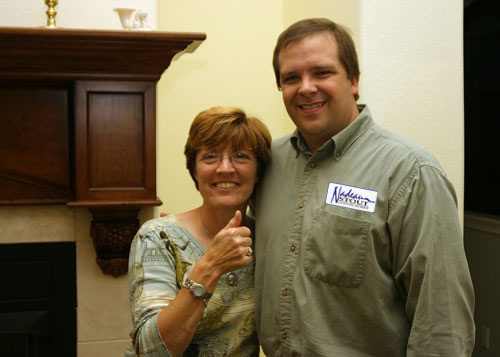 Ocala resident Mary Dana Sauro was in search of a house plan that would meet her family's needs. After visiting a number of Parade of Homes events over several years, she saw a home designed and built by Nadeau-Stout Custom Homes and said, "That's the house for us," she recalls.
She felt the elegance of the design and the quality of the house showed that Nadeau-Stout custom home builders were "head and shoulders" above the others.
Mrs. Sauro describes the planning and construction process as having included excellent communication every step of the way. She felt Andre and Rusty were receptive to her needs and concerns.
"If you want to make sure you've spent your dollar wisely, you want quality for your dollar, and if you're interested in the details, they are the best," Dana says. "Rusty and Andre have a great relationship and they know what they're doing. They've got the technology that backs up their experience and they've got the list of subs. I would say that these guys continue to win the Oscar for best builders in Marion County!"