Cavallo Dolce Main Floor
Cavallo Dolce Upper Floor
Please Click on an image to enlarge and check back often to see updates.
View Other Plans >>
Get a Sneak Peek!!
Nadeau-Stout Custom Homes has a reputation for designing incredibly luxurious and indulgent master baths. After a year in design, The Cavallo Dolce's Infinity Master Bath will surpass all of our previous designs by far. Since this will be a home we enter into a number of home & design competitions, we're not quite ready to unveil the design just yet. However, if you wish to be among the few who get a sneak peak, feel free to contact us directly via email at
info@nshomes.us
.We have been known to make special exceptions on occasion!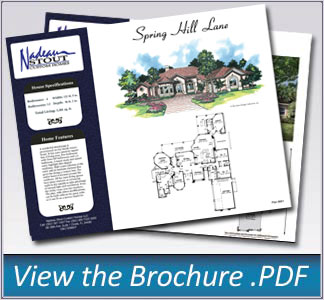 View Floor Plan .pdf
Floor Plan Details:
4 Bedroom/ 3.5 Bath
2 Car Garage
3360 square feet living
4523 square feet total
Home Features
Custom Coffered Ceilings
Huge Master Suite with Infinity Master Bath
Spacious Great Room with Fireplace
Upper Bonus Room
Customization Available
View Custom Homes Plans